Founder of The Latvian American Eye Center (LAAC)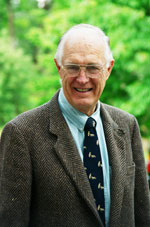 Latvian American Eye Center was founded by John Joseph McDermott, M.D., a highly qualified expert opthalmologist from LA, CA, USA. He graduated as a doctor in 1960 and has since worked in a wide range of medical centres in his native USA. His expert international experience covers a period of more than 25 years of a lifetime focussed on the treatment and prevention of eye diseases and disorders while his international work experience includes projects in Ecuador (1964), Thailand (1967), Vietnam (1969 and 1973) India (1979), Afghanistan (1988) and Honduras (1989).
In 1990, as suggested by one of his colleagues Ansis Muižnieks, he came to Riga. The first medical facility he visited was The Eye Department of Riga East University Hospital and was introduced with the work environment, equipment, patients and therapy methods there. This visit concluded an important fact - in order to start any kind of training and experience exchange, essential surgical materials, equipment and medication had to be provided. On his initiative, needed equipment and materials were gathered so that J.J.McDermott's wish and the purpose of his trip would become reality - to teach Latvian ophthalmologists how to do cataract extraction with artificial lens implantation.
The program suggested further transfer and expansion of knowledge from one ophthalmologist to two other colleagues and it developed to the next stages which included more surgical techniques like cataract extraction for children and new techniques used for retinal tears. Meanwhile The Latvian American Eye Association was established to continue the development of ophthalmology in Latvia.
Now we can proudly say that the initiated chain reaction continues to expand with the experienced ophthalmologists training younger colleagues, all together contributing to the overall progress of ophthalmology. In 1993 J.J.McDermott established The Latvian American Eye Center and since then our clinic has grown to employ 11 ophthalmologists while preserving the same philosophy - "If you are given a professional development opportunity, take the best of it and pass your knowledge further so that ophthalmology in general continues to grow and patients can be provided with high quality professional care in time".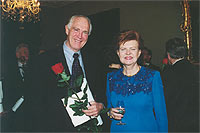 In 2001 with the former president of Latvia, receiving the precious Order of the Three Stars for his contribution to the progress of ophthalmology in Latvia.