Vision correction
Enjoy your visual freedom!
Thanks to the Latvian American Eye Center you can forget about glasses and contact lens forever. We offer a new treatment of refractive surgery to correct short-slightness, long-sightedness and astigmatism - implanting an intraocular collamer contact lens (ICL).
ICL properties
ICL is an intraocular lens manufactured by the company STAAR Surgical AG (Switzerland) which is made from a special biocompatible material - collamer that is known as human body-friendly material.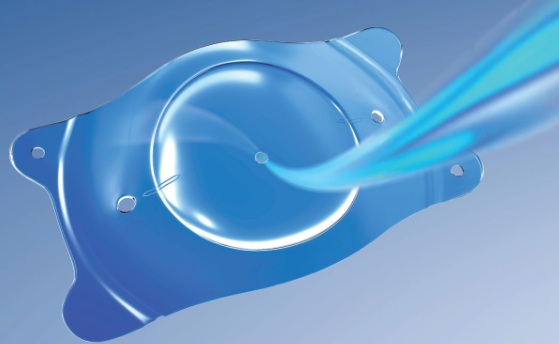 ICL lens
Collamer contains some collagen which repels protein molecules and attaches a mono-layer of fibronectin, as a result the eye does not perceive ICL as a foreign body, thus minimizing the inflammation risk. Collamer is characterised by good flexibility, therefore ICL lens is used as a folded lens which is introduced into the eye though a small (3mm) opening between the iris and the natural lens of the eye near the external border of the cornea where it fully opens easily and predictably and can stay permanently without any care.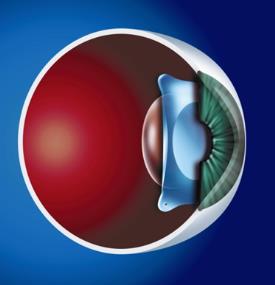 ICL location
ICL lens has a maximum light transmission and causes minimum reflection and other distortions.
ICL suitability
ICL lens is suitable:
for patients aged 21 to 45 years;
if the vision is stable and has not changed for at least one last year;
if there is no chronic general disease;
depth of the anterior chamber of the eye (distance from the corneal endothelium to the anterior chamber of the natural lens of the eye) must be at least 3 mm;

Depth of the anterior chamber
horizontal diameter of the cornea from white to white must be from 11-12.5 mm.

White-to-white
ICL IS NOT implanted:
into the only eye;
patients with glaucoma, cataract, uveitis;
after previous eye surgeries of other kind (except for heterotopia surgeries, focal retina laser coagulation);
in case of marked chronic blepharitis/ blepharoconjunctivitis.
Range of ICL correction:
spherical correction up to -18.00 Dsph is possible in case of myopia;
correction from +0.50 to +10.00 Dsph is possible in case of far-sightedness;
correction up to +6.00 Dcyl is possible in case of astigmatism (in combination both with myopia and far-sightedness).
For contact lens users:
you must discontinue using soft lenses 2 weeks before the measurements;
you must discontinue using hard lenses, and ICL parameters will be determined after keratometry, pachymetry, and refraction indicators fully stabilised.
Course of ICL manipulation:
1. Patients planning a vision correction with ICL must undergo a complete eye examination:
determination of acuity of vision;
examination of refraction and the best acuity of the corrected vision;
examination of the anterior parts and transparent parts of the eye using a biomicroscope;
examination of fundus oculi using an indirect ophtalmoscope;
gonioscopy;
pachymetry;
keratometry;
measurements of depth of the anterior chamber;
measurements of cornea diameter.
2. If no contraindications have been found, the required lens is calculated and ordered from the manufacturers (STAAR Surgical - Switzerland). Spherical ICL lenses are usually on stock, and the required lens is sent out at once and is delivered to Latvia within a few days. In case of more complicated astigmatic lenses, you may need to wait while they are manufactured, and it may take up to 6 weeks until the lens is delivered.

3. ICL implantation date is usually planned when the day of the lens delivery is known. The patient is admitted to a day-care facility on the day of ICL implantation. ICL implantation is performed in the outpatient setting in a sterile environment and lasts for about 15 minutes. Before the manipulation the eye is anaesthetised using an analgesic drug dripped on the cornea, which dilates the pupil. Then a small 3 mm opening is made in the place where the white of the eye adjoins the colourful part of the eye (iris). Then jelly-like substance and ICL are introduced into the eye through this opening, and the jelly-like substance is washed out of the eye. That's all! Sutures are not required for wound closure - the opening will close itself shortly afterwards. Vision usually improves straight after the surgery, however, it definitively stabilises within 1 week. In about 2-3 hours after the manipulation intraocular pressure is checked, ICL location is assessed using a biomicroscope and a patient can leave the facility.

4. Tests after ICL manipulation - on the 1st postoperative day, then in 1 week. Afterwards - depending on the situation, but most often in 1 and 2 months after the surgery.

ICL possible risks
As any surgery, ICL implantation is related to risk of certain complications. In case of vision correction using ICL, there is a possibility of the following complications:
Cataract formation. The incidence of the natural lens opacity increases in patients who are older than 40 years and have high myopia. The natural lens of the eye may be wounded during the manipulation, which may contribute to cataract formation; however, the incidence of this risk is lower than 1%.
Intraocular hypertension. Short-term intraocular hypertension straight after the surgery is more common. Experience has shown that intraocular hypertension after the surgery can be managed promptly and successfully using local therapy.
Risk of endophtalmitis. It occurs, as the manipulation is an intraocular surgery, therefore it is performed in a sterile operating room, using sterile and, if possible, single-use instruments. Local antibacterial drops are used before and after the surgery for prevention.
Light halos and reflections. Mostly in the dark, while driving, around lighting fixtures. The patients who have such complaints are disturbed by them mostly after the surgery; however, they decrease or disappear later. This is related to the fact that pupils dilate in the dark, and ICL optic area may not cover the area of the pupil completely.
ICL benefits
ICL is a reversible manipulation. ICL lens is intended for permanent and long-term vision correction, however, if necessary, it can be removed or replaced by another lens without changing the eye structure.
ICL is suitable for patients with thin cornea.
ICL is suitable also in case of "dry eye" syndrome.
Good aesthetic effect, as ICL is placed in the posterior chamber of the eye, therefore it is imperceptible.
The indicators of the eye structure remain unchanged after the surgery.
Patients' further activities in life are not restricted (e.g., they can do sports, climb mountains, dive, plan a pregnancy and delivery, etc.). Sparing regime is only required for 2 weeks after the surgery (restriction of heavy physical activity, sauna, swimming, necessity to avoid catching cold).
High level of patients' satisfaction - 99%.