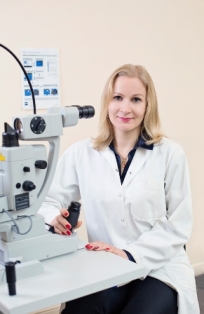 Certified ophthalmologist-surgeon
Give the world the best of what you've got!
Specialization
Cataract, glaucoma diagnostics and surgical treatment
Education
1998 - 2001 Residency in Medicine, Riga Stradins University
1992 - 1998 Riga Stradins University, Faculty of Medicine
Professional education
2009 Acquired grant for internship in Krankenanstalt Rudolfstiftumg Hospital, Vienna, Austria
2006 Practiced cataract surgery with phacoemulsification technique in Sudarsani Eye Hospital, India
2012 Glaucoma surgery, IGS congress, Glasgow, Scotland
2001 Internship in Duisburg Ophthalmological Clinic, Germany
2000 Internship in Umea University, Department of Ophthalmology, Ornscoldsvic Clinic, Department of Ophthalmology, Sweden
Participation and presentations in European and Baltic symposiums, as well as European and global glaucoma and cataract world congresses.
Member of the Association of Doctors of Latvia and World Glaucoma Association.
Lecture reading for doctors and pharmacologists in educational seminars and workshops.
Work experience
since 2003 ophthalmologist-surgeon in Latvian American Eye Center
2001 ophthalmologist in Riga Psychiatry and Narcology Center
2001 – 2003 doctor on duty in the Eye Department of Pauls Stradins Clinical University Hospital
2000 – 2006 ophthalmologist in Health Center "Vesels"
Languages