News
New! Eyelid exfoliation with the latest generation Blephex equipment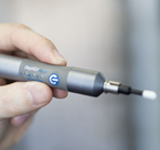 Fast and effective treatment of chronic eyelid inflammation or blepharitis using Blephex equipment. This treatment also prevents the formation of skin plaque and reduces the risk of inflammation.
About the procedure:
• 10-15 minutes long, painless
• removes plaque from eyelid edges and eyelash roots
• makes the administration of medicine more effective in the area of inflammation
• improves the functioning of glands in the eyelids
• uses only sterile, disposable cleaning tips
• is performed by trained personnel with the latest generation Blephex equipment

Blepharitis, inflammation of the edge of the eyelid, is a common medical condition. It causes inflammation of the eyelids and eyes, a sensation that a foreign body is present in the eye or a burning sensation, discharge, plaque on the lashes and in the corners of the eye, aversion to light or even vision deterioration. Severe and prolonged cases can also result in thickening of the edge of the eyelid and scaling of the skin.

For more information, call: (371) 67272257 or e-mail: This email address is being protected from spambots. You need JavaScript enabled to view it..